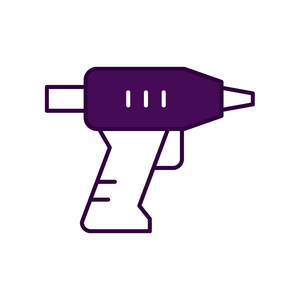 Dual temperature hot glue gun. Perfect for crafting. Includes 5 glue sticks.
FREQUENTLY ASKED
What is included in my craft kit?
Holladay Crafts puts high quality materials, hand picked, and made in the USA whenever possible, into ready-to-craft kits delivered to your door. All the items you need (plus a couple extra) to complete a Holladay Craft are included in the kit as well as detailed directions and tips to help you avoid mistakes and customize as you wish.
Do I need any tools to complete these crafts?
All crafts come ready to assemble. Some crafts require scissors, a hot glue gun, or pliers, all of which are explained in the product descriptions. All tools needed or recommended are also specified in the detailed instructions that ship with your kit.
When will my order ship?
We ship everything from our Austin Headquarters within 5 business days (except weekends and holidays).  Need it faster? Just use our contact form and we can help you out!
Do you ship internationally?
We sure do. Please note that international orders take significantly longer for delivery and may be subject to import/value-added taxes that are beyond our control.
RETURN POLICY
We hope you love what you ordered. But in case you don't we'll send you a new craft kit or issue you a quick refund.  
Returns and exchanges are free and you have up to 30 days to return or exchange items purchased.
We don't refund original shipping and handling charges but if you choose to exchange we will ship your new items for free!
Customer Support
Customer service hours are Monday - Friday: 9am - 5pm CST. Please allow up to 24 hours for someone to get back to you. We can be reached by
email here
.